After three games, you'll be required to do an NPC shift. This is not a bad thing!
* NPC shifts are an easy way to earn frags! Doing one earns you 5 frags, and volunteering for more earns you...well, more.
* NPC shifts are one of the fastest ways to learn combat mechanics. People are going to unload abilities into you fast, and you will learn from the experience (and die trying).
* NPC shifts give you interesting roles and abilities to play with! Scream at people to death, play with forbidden alchemy, or spend an hour dancing through the forest without worrying about someone bumping you off!
Note that the grand majority of this primer is aimed at general NPC shifting, specifically combat mods. There may be exceptions from Shaper to Shaper and mod to mod, but in general, consider these guidelines to your first appearance to Shaper camp.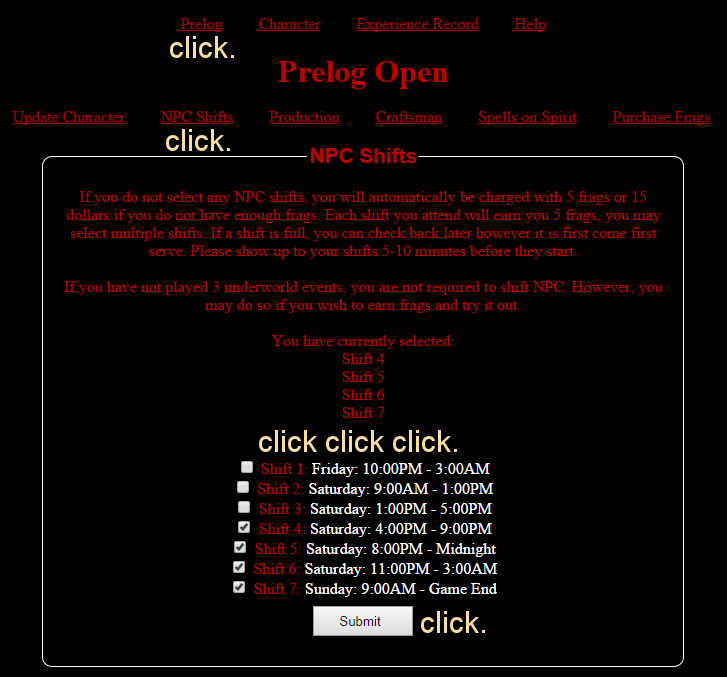 You're only required to do one shift, but I did a bunch to show you could select multiple shifts.
You can also sign up for being a weekend NPC! Doing it for the whole weekend nets you 35 frags (coincidentally the cost of a blanket, if you're into double blanketting) and attending game will be FREE. Now that's a beautiful word.
You must have attended your first three games before volunteering.
While I don't imagine the Shapers will say no if you volunteer after one or two, you really,
really
have to know the game mechanics and how Underworld works to be an effective NPC.
* A black (or very dark) shirt and pants/shorts. Your pants should have pockets to put loot (silver or tags) in. If you get cold easily/need something to cover your head, black sweaters, kerchiefs, beanies and other clothes are fine too.
* Good boots. You will be tromping through the woods, mud and other crap a LOT. See my Primer to Costuming Basics' shoe section for suggestions. (
http://www.underworldlarp.ca/mybb/showthread.php?tid=10066
)
* Pocketable snacks and a bottle of water. It's nice to have a pick-me-up between mods!
* A white OOG headband isn't necessary, but is very good for long hikes (because putting your hand on your head for that long is surprisingly tiring).
* Be very familiar with basic combat and common abilities. What's body damage? Whose call is taken if there's a dispute over hits? How do you react to a Hamstring, a Repel or a Sleep spell? You don't have to memorize the entire rulebook (c'mon...it's really long...), but after three games you should have a decent idea of what will be thrown.
Signing into Shaper/NPC Camp
* Eat, drink, use the outhouse, etc. before checking in. (Yes, I'm guilty of not doing these.) You are expected to be ready to go when you show up, as the Shapers have a limited amount of time to use you.
* Announce your presence ("Shift NPC approaching!") to the camp. This is to alert the Shapers that someone is here for a shift, and to stop talking about important game details.
* Check in with the Monster Marshal (Constantine - black glasses, dark curly/wavy hair) or his assistant (uh...Jason?). They will note that you arrived for your shift. If you do not, you run the risk of not earning your frags and/or getting charged the difference next game.
* You will likely be sent over to a separate fire to wait for your role. Shapers and season/weekend NPCs will usually talk about what's going to happen over the entire game, and they want to limit potential secret leaking to PCs.
* Shapers will give some leniency to latecomers if they stay a little later to make up for it. It happens: a meeting runs long, a mod took too much time, you don't have a watch, etc. Don't do it consistently though, as Shapers do rely on shift NPCs to show up on time to run major mods.
* Take a sip of water. Trust me, you'll need it.
* Suit up! The Shaper will tell you what to wear (costume, mask, tabards) and pick a weapon (if needed). If you need make-up, sit down and ask one of the more experienced make-up artists to do you up. (I've heard through the grapevine that they prefer random people to not dig through the make-up kit, since it's expensive and easy to destroy.)
* The Shaper will give/tell you your stats. If you don't understand any of them, ask. They'll also fill you in on the general theme/idea of the mod - perhaps you're fairies in the Fae Realm or zombie goats following a farmer - and give you any special instructions on how to play it up.
* You will have a group leader - likely a Shaper, a season/weekend NPC or an experienced shift NPC. Do what they say.
* If you have a white headband, double check if you're wearing it when you walk out. Make sure it's clearly visible to passerby (it's a piece of cloth, not a fashion statement).
* Try to hide your weapons, mask, etc. and minimize talking when you walk up to the mod site. You really want to hide what you are and keep that element of surprise from the PCs. (PCs try not to meta, but it's really hard to not mentally file away 12 spiders trooping past OOG.)
* Your job is to entertain the PCs. Which means:
** Act like your role. You're an orc? Be dumb. You're a coyote? Be aggressive. You're a tentacle plant? Be squiggly. Roleplay it a little: it kills immersion when a stumbling zombie suddenly charges down the nearest player. You don't know how elementals behave? Ask.
** Unless specifically told to, your job is not to kill or final a PC. While it's great bragging rights, as an NPC (especially a new NPC) you're just here to spread fear and mayhem.
** YOU ARE GOING TO DIE. DEAL WITH IT.
* Call out a PC if they're doing something inappropriate: machine gunning, incomplete damage calls, ignoring spells, etc. Remember, you have some power as the NPC, and you do not have to take something if it's inappropriate.
* Don't hesitate to put your hand on your head and ask what something does. It's a pain to do it, but PCs usually understand that Death Siphon or Riposte is relatively uncommon.
* Don't argue. Nothing kills excitement faster than a rule call. If in doubt, rule it in the PC's favour, then ask a Shaper afterwards.
* Get ready to whip out your loot. Stick your fingers in your loot pocket as soon as someone starts looting you - even if you don't have loot! (Come on, make those PCs work for their stuff!)
* PCs should tell you if they have any levels of looting. A standard loot count is 60 seconds, but for every level of Looting (frag skill), the count is reduced by 10 seconds, to a minimum of 10 seconds. So a character with 4 levels of looting would only be doing a 20-second count.
* Call out any PC who speeds through their loot counts. You have the power to tell a PC that they're counting too fast ("Looting1looting2looting3" vs. "Looting 1, Looting 2, Looting 3...") and tell them to slow down or start over. Tell them immediately instead of waiting for them to finish.
* Hand over the loot immediately, or give them an empty-handed high five!
* Collect tags on any abilities spent on you. They're made for a reason. (Acceptable to skip this step if it's a big mod and you can't find the person after, but do your best to get them!)
* Put your hand on your head and report to your group leader for further instructions.
* If nobody loots you after a reasonable amount of time (1-3 minutes), put your hand on your head and report to your group leader.
* PUT BACK YOUR MASK, YOUR COSTUME AND YOUR WEAPONS IN THE CORRECT PLACES.
* Hand back your loot tags. Seriously. Please don't steal.
* Wipe off your make-up, if you have any.
* Drink some water. Really. You want to.
* If you had a problem with a PC, tell a Shaper, or mentally file it away to e-mail the owners (comments@larp.ca). They will take your complaint seriously; at the very least, they will have a record of it, and if several people e-mail "I think Bob cheated on this", it gives the Shapers a better history to work with.
What if I am weak and feeble and can't do a shift?
If you have a medical condition, or want to ask if you can do a custom shift? E-mail Rob (rob@larp.ca) and he will see what he can do for you. Have a decent reason for needing that shift (e.g. coming late/leaving early from game, chain meetings/mods require your presence). Everyone appreciates forewarning rather than a late excuse.
My personal account: I could not participate in heavy combat after I got surgery. The Shapers sent me on non-combat roles or I did NPC camp clean up or fire tending duty (watching the fire) while everyone else was out.
If you are not feeling well, you can ask to sit out of a mod, or the Shapers can summon a Medical Marshal to treat you. (Note that Medical Marshals are actual players who'd rather spend their time playing or aiding with unavoidable injuries (e.g. broken nose) than avoidable ones (e.g. exhaustion).) We'd really rather not have you pass out from running back-to-back mods, but we also want you to be responsible for your own health. You're an adult who has survived at least eighteen years; you should be competent enough to judge if "going out for one more" will hurt you.
That being said, don't show up to the Saturday 11PM to Sunday 3AM shift saying you're too tired to go on a role. Seriously.
If you don't want to do an NPC shift, that's your call. Everyone has their reasons. But remember that the game is only as good as the bodies Shapers can puppet. (Also, you earn frags.)
If you do not show up for your shift, you will have 5 frags deducted from your account, or be charged an additional $15 for your next game.
Tienna Freefeather: representing straw hats and panicked screaming.
For roleplay, email: wong.yi.mun@gmail.com
UW GIFs:
click!
| UW MVs:
more click!